Guild Tower Battle
is a
PVP
scenario that pits guilds from different servers against each other in all-out guild versus guild matches.
Participating in Battle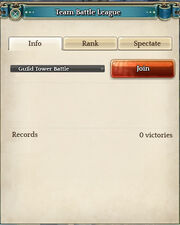 Battles will take place twice a day. To participate in a Guild Battle, the guild master must open up the Battle League window to find the Guild Tower Battle option and click the [Join] button to initiate auto-matching. The guild masters will be moved to the battle area once an opponent is found and preparation for the Guild Battle will begin upon entering the battlefield.
[1]
If a player dies in battle, they will be put under a resurrection cooldown. During the cooldown, the dead player can spectate the battle until he/she is resurrected.
Rules of Engagement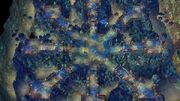 Each guild will be assigned a random headquarters out of the 8 available areas. The competing guilds must attack each other's Guild Towers, located in their respective team headquarters. The first guild to destroy its opponent's Guild Tower within the 30-minute time limit is declared the winner.
If neither guild manages to destroy the opponent's tower within the time limit, victory will be awarded to the guild with the highest kill count. In the event of an even number of kills, the title goes to the guild with the most accumulated damage.[2]
Rewards
A guild's rank can be checked across all servers through the Guild Battle Rank window, which will be reset every Sunday after 11:59:59PM. Guilds will be rewarded in accordance to their rank while the server that is home to the weekly 1st place guild will become the winning server, increasing the bonus TP limit to 8TP for all users on that server.
| Rank | Reward |
| --- | --- |
| 1 | 60x 100TP Chests |
| 2 | 40x 100TP Chests |
| 3 | 30x 100TP Chests |
| 4 | 20x 100TP Chests |
| 5 | 5x 100TP Chests |
| 6 | 5x 100TP Chests |
| 7 | 5x 100TP Chests |
| 8 | 5x 100TP Chests |
| 9 | 5x 100TP Chests |
| 10 | 5x 100TP Chests |
Reward items won via the Guild Battle ranking can be claimed by clicking the [Reward] button on the Guild Battle Rank window. The items will then be transferred to the corresponding guild's common storage, where the guild master can distribute (transfer) them to other guild members. Items can be received through the personal message box of individual guild members, which will then be bound to the guild member once obtained.[3]
References